Transfer old family films to digital format or DVD
Enjoy superb results from Ireland's leading cine transfer centre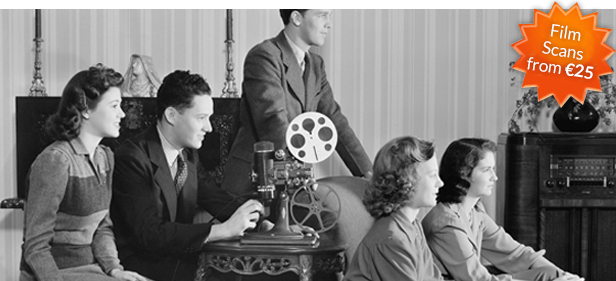 Have your old family films or newly shot footage professionally transferred to Digital Format or DVD. Post in or call to our studios in Dublin city centre to get advice from our expert team, who have over twenty nine years of experience in working with cine film and cine film transfers. We handle Super 8mm, Standard 8mm and 16mm formats. Both High Definition (frame-by-frame) and standard transfer options are available.
Cine Film Transfers
At DVD Centre we specialise in cine film transfers to digital formats and DVD. We use state-of-the-art, frame-by-frame scanning systems which guarantees you get the best quality available. Please note that all 8mm and 16mm films are digitized on site by our trained technicians. We never send out customers' films to third parties for scanning.
Most cine film is now over 35 years old - many collections need to be digitised before they deteriorate any further. Now is the time to take action if you want to save those Super 8 and 16mm family memories.
Restoration
Restoration can improve the quality of many old cine films. For example, if your film is under exposed, over exposed or discoloured, our film technicians can dramatically improve the picture quality.
Editing
After scanning we can edit the film and change the running order of clips, add titles, background music and narration. You can tell us how you want it done or simply give us broad guidelines.
High Definition Film Scanning
Our High Definition film scanning system produces superb quality results. Broadcasters like RTE, film archives and libraries all use our services. If you want the best results from your film scanning, talk to us now about your requirements. You are welcome to drop into our offices in Dublin city centre.
Cine Film Pricing Options:
| | |
| --- | --- |
| 50 ft Reel Size 3" | From €13.00 per reel* |
| 200ft Reel Size 5" | From €16.00 per reel* |
| 400ft Reel Size 7" | From €29.00 per reel* |
*Depending on number of reels being transferred
Get your cine films converted in Dublin city centre
If you drop your cine film into our studios, we will usually have your DVD ready in 5 working days, depending on the number of reels to be transferred. You can pick up your cine film and DVD from our studios or we can arrange to post both out to you. Your films are returned in the same condition as we receive them.
Opening hours: Monday to Friday 10am to 4pm. Open during lunch.