State of the art video editing facilities
Spacious editing suite with an expert team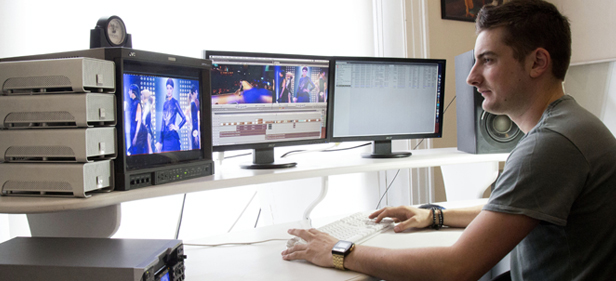 You shoot the movies, we create the story. At DVD Centre we create your Movie. It could be a 21st Birthday Party, a "This is your Life" video, or a "Reeling in the Years" story of family video clips from down the years.
All you have to do is drop in to us with your videos on tape, DVD or Phone, and we'll do the rest. Alternatively, you can post in your videos with instructions. There is also the option of uploading your videos to Dropbox where we can easily access them.
Most families have scores of pictures lying around and videos shot at various family gatherings through the years. And they're all stuffed away in boxes, gathering dust.
Why not give your parents a special treat for their wedding anniversary, something other than the usual range of forgettable gifts. You can use family photos and videos, and edit them all together into a memorable walk down memory lane. The finished video is something special, something that every family will treasure.
We have worked with families throughout Ireland and the UK to provide each of them with a DVD of their life's journey. We use captions, music and a professionally-designed cover to enhance the presentation, and to create a special gift.
OPTIONAL:
The beauty of these DVDs is that they can be viewed over and over through the years and always be emotionally rewarding. If you have a loved one or friend who you want to pay tribute to for a special occasion, you'll find that this is a gift that is valued like no other.
Visit our DVD editing service in Dublin city centre
Call in to our studios and one of our expert team will guide you through the DVD menu authoring process, how it is going to look and work. Our aim is to deliver a product which you will be excited about!
Opening hours: Monday to Friday 10am to 4pm. Open during lunch.